CEVISAMA is the main event related to the world of ceramics for over thirty years, held in Valencia (Spain) from 9 to 13 February 2015. CERAMIC ALTHEA, company internationally recognized for its exceptional offering in furnishing bathroom, chose this prestigious showcase for its innovative products. Among these, we highlight the revolutionary Plus+TON®, a unique material and applicable indefinitely on any ceramic surface, and the line finished in Diva Plus+TON®
Ceramica Althea, leader over 20 years in the production of high quality bathroom fittings, has patented a product with unique characteristics: from a one single fusion at very high temperatures of 1.250°, comes to life Plus+TON®, a ceramic material, qualified as entirely recyclable and therefore 100% eco-friendly, derived from a productive cycle with no pollution emissions into the atmosphere. Plus+TON® ceramic surface has allowed us to produce shower trays, washbasins, slabs and sanitaries, plates, top, counter tops and bathroom fixtures.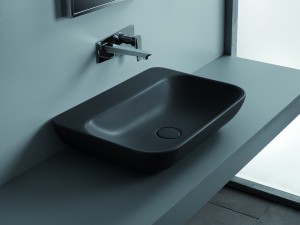 Plus+TON® is 100% scratch-proof, stain-proof, slip-proof as well as bacterial resistant and can easily replace those products manufactured using resins, solvents and catalysts; materials that are highly pollutant and non-recyclable. Plus+TON® uses only natural raw materials of the highest quality by just adding water and fire.
The washbasin Diva collection, is the undisputed protagonist of the bathroom space and includes a built in and two sit on top washbasins, studied to be also mounted hung to the wall. The Diva sit on top or wall hung washbasins, respectively have a height of 14 and 18 cm.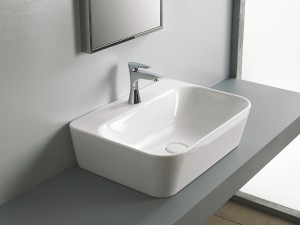 The smooth profile accompanies the capacious basin of the three models. Diva loves to be refined and functional, modern and exclusive, it fascinates thanks to its smooth shapes and its extraordinary Plus+TON® finish. The Diva collection is the result of the company's technical experience, research and constant attention to detail, and it is for this reason that all three models are enhanced by the ceramic waste, coordinated to the colour of the washbasin.